Yellah is a member of Mellow Yellow. Along with other team members, they hail from the City of Amalanta and met while working for The Non-Descript Soda Company before they quit the job, then they moved to Marblopolis and competed in Fruit Circuit before participating in the Marble League.
Yellah is known for its excellency in High Jump as they managed to win High Jump in Marble League 2017 with a record-breaking score. Yellah broke the record again in High Jump in Marble League 2020 and managed to clinch a bronze. Yellah has competed in 11 individual events, getting one gold, one silver, one bronze and a total of 98 individual points.
History
Pre-Marble League
Yellah, alongside other team members, they hail from the City of Amalanta. They met while working for The Non-Descript Soda Company before they quit the job, then they moved to Marblopolis and were asked to compete in Fruit Circuit, to which they accepted. They were improving in every season and they got 2nd in the final season of Fruit Circuit, which was enough to qualify for Marble League 2016.
2016
The team started out well in Balancing where they got a silver but quickly fell down the order during the next two events. Yelley's gold in Sand Rally jumped the team to 1st in the standings. They then dropped to 3rd after Yellah's last place finish in Long Jump and followed by that was a bronze in Water Race. The team had a slowdown in the next four events, only earning one point and fell to 6th, but a gold in Diving brought them back into championship contenders with just one event left. The team got silver in the last event, but it wasn't enough for them to win the championship as they finished the season in 2nd.
2017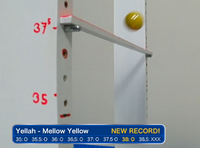 The team pre-qualified for Marble League 2017 because of getting 2nd place in Marble League 2016. The team got off to a good start by placing 1st after the first four events. The team then went on a downward spiral and scored only 13 points in the next three events, dropping to 8th in the standings. Yellah's record-breaking score, which resulted in a gold in High Jump, and their silver in Steeplechase elevated the team to 2nd in the standings, with 27 points behind the leader Savage Speeders. The team got 11th in Archery which closed the gap to 25 points, but the O'rangers who were in 3rd in the standings were only one point behind them. Terrible finishes in the last two events, gaining only a total of 2 points , dropped the team to 3rd, only one point above Midnight Wisps, but this was enough for them to auto-qualify for Marble League 2018.
2018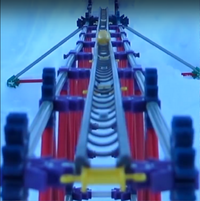 The team placed 2nd in the Friendly Round by placing 2nd in all three events, but their main tournament was a disaster for the team as they only got one top-half finish in the first eight events (Yellah's 6th-place-finish in Ski Jump), placing dead last in the standings. But the team got three top-half finishes in the last four events , which was enough to get out of the basement, but wasn't enough for the team to escape the bottom three and finished 15th to end this disastrous season.
Mellow Yellow had a busy offseason, returning to Amalanta to visit their families. There, they also began to work on a new stadium and training facility with their new coach, Mellow. They also had collected enough money to permanently settle in Amalanta. The team came last in their group in the Amazing Maze Marble Race. They also submitted a bid to host Marble League 2019, but lost out to the Oceanics.
2019
The team participated in the qualifiers for the first time and barely qualified thanks to their 2nd-place-finish in Relay Race.

Mellow Yellow had one aim in Marble League 2019: to win back the respect of their fans after last year's poor performance. Unfortunately, Yellow, finished 11th in Underwater Race. However, each event saw an improvement as the team moved up the standings. The team placed 8th in the standings after the first quarter of the main tournament, and moved into 4th after Summer Biathlon, their highest point of the season. The team dropped down to 7th after two bottom-3 finishes, including Yellah's 15th-place-finish in Dirt Race, but they were able to place top 9 in the rest four events and finished 4th in this tournament.
Mellow Yellow returned to Amalanta and were greeted with surprise as they saw their logo gratified around the city, their posters in their favorite pizza shop, and headlines about them in the Amalanta Press. The team once again applied for a hosting bid for Marble League 2020, but were again unsuccessful.
2020
They entered into 2020 Marble League Qualifiers, with a 4th place finish in Balancing. However, after a 17th in Funnel Endurance, the team fell down to 13th. But they manage to finish in the top 6 in the last two events, and managed to qualify in 5th. The team had high hopes, and were determined to keep up the good performances from last year.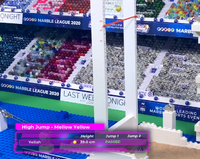 Once they entered the main tournament however, their form has been appalling as they finished in the bottom three 5 times in 8 events (including Yellah and Yellow's last-place-finish in Newton's Cradle) and by the 10th event, despite a 5th place finish, they achieved the lowest point tally after 10 events with just 41 points. Despite getting 8th in Black Hole Funnel, after Event 12, Mellow Yellow became the first team to mathematically eliminated from winning Marble League 2020, with them chained at the bottom of the Marble League with 51 points, However, Yellah's bronze medal in the High Jump, and a critical silver medal at Marble Marathon, pulled Mellow Yellow out of the "basement", finishing 14th.
2021
On June 10th, the draws for the qualifiers were revealed. Mellow Yellow was placed in Group A with 6 other teams from Marble League 2020. Mellow Yellow won two team events, which guaranteed them qualification with one event left. 10th in Funnel Endurance by Yellah and 10th in Sand Rally dropped them to 2nd of Group A, breaking the so-called "14th place curse".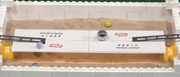 In the main tournament, the team was aiming for redemption, and they just did it in the first event, they started off well, winning a bronze medal in Wave, but they started to slow down as they only finished in top half once, and got two consecutive last place finishes in Funnel Endurance and 5 Meter Relay. This dropped them down to 14th in the standings. They rebounded in Jousting as Yellim and Yellah made it to the final, finishing in 2nd, which brought them back up to the top ten. Followed by that, the next three events were again disappointing for the team as only one of them is a top-half finish. As a result, the team dropped to 11th in the standings.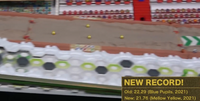 In the next two events, they made history by getting two back-to-back gold medals, in Steeplechase and Sand Mogul Race respectively, which brought them up to third. The hot streak continued in Diving where they got a silver medal and took first place away from Team Momo with a margin of 3 points. Both Team Momo and Mellow Yellow shockingly placed bottom two in Elimination Race, which enabled the Raspberry Racers to retake the lead. Followed by the team's disappointing finishes in Sand Rally and Football, the team dropped down to 3rd, trailing behind the Raspberry Racers with 9 points and the Hazers with 2 points. Yellup got bronze in Marblocross, which was enough for the team to win this season.
Appearances
Marble League Records
Former Marble League records
Event
Record Holder
Result
Previous Record
Current Record
Notes
High Jump
Yellah
38.0 cm
37.5 cm
40.5 cm

(2020)

Yellah cleared every single height up to 38.0 cm with only one attempt.

The record was later broken by 8 athletes in 2020 (including Yellah)
Career Events
#
Events
1st
2nd
3rd
Total
Podiums
2016
7
1
1
0
2
2017
7
1
1
0
2
2018
10
0
2
0
2
2019
12
0
1
2
3
2020
11
0
0
1
1
2021
12
3
2
1
6
Total
59
5
7
4
16
Note: Events include any kind of individual & team events (friendly events, other tournaments etc.)
Individual Career Points
Summary
| # | Events | 1st | 2nd | 3rd | Points |
| --- | --- | --- | --- | --- | --- |
| 2016 | 1 | 0 | 0 | 0 | 0 |
| 2017 | 2 | 1 | 0 | 0 | 31 |
| 2018 | 1 | 0 | 0 | 0 | 10 |
| 2019 | 3 | 0 | 0 | 0 | 17 |
| 2020 | 3 | 0 | 0 | 1 | 23 |
| 2021 | 3 | 0 | 1 | 0 | 28 |
| Total | 13 | 1 | 1 | 1 | 109 |
Marble League
| # | Events | Gold | Silver | Bronze | Points |
| --- | --- | --- | --- | --- | --- |
| 2016 | 1 | 0 | 0 | 0 | 0 |
| 2017 | 2 | 1 | 0 | 0 | 31 |
| 2018 | 1 | 0 | 0 | 0 | 10 |
| 2019 | 2 | 0 | 0 | 0 | 8 |
| 2020 | 3 | 0 | 0 | 1 | 23 |
| 2021 | 2 | 0 | 1 | 0 | 26 |
| Total | 11 | 1 | 1 | 1 | 98 |
Trivia
Yellah is the first and only member of the team to get at least one individual gold, one individual silver and one individual bronze.
Gallery