Wospy is a member of the Midnight Wisps.
Wospy has won only one medal. They won it at Marble League 2017 during the Underwater Race. They beat Kinnowin of the O'rangers and Hop of the Jungle Jumpers to claim the gold in the event.
They did not have a great season in either Marble League 2018 or Marble League 2019. However, they were selected to compete in Marbula One Season 1 along with the captain Wispy.
In Marbula One Wospy's best finish was a bronze at the Hivedrive Grand Prix, they also managed to get top half finishes in all their individual events in Marble League 2020. However, they were also notorious for choking away the lead in the final event of Marble League 2020, causing the Midnight Wisps to fall from being eligible for winning the Marble League to missing out the podium spots.
Wospy's most famous achievement came in Marbula One Season 2, when they won the Palette Park Grand Prix after starting in last (P16), therefore breaking the records of largest gain from qualifying position and wins from lowest starting position. They and Hazy are the only marbles to have accomplished this feat as of now.
Appearances
2017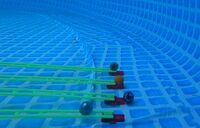 Wospy participated in Marble League 2017 alongside the team and participated in two individual events. They managed to get 1st in Underwater Race. They got 28 career points and Midnight Wisps finished 4th this season.
2018
Wospy only participated in one individual event, Speed Skating and got 10th. Midnight Wisps eventually won this season.
2019
Wospy participated in one individual event, the Elimination Race and scored 3 points. Midnight Wisps eventually finished 10th this season.
2020
Wospy, alongside Wispy participated in Marbula One Season 1. Wospy got pole in their first Grand Prix, O'raceway Grand Prix. They fell from the conveyor belt at the start of lap 4 and got stuck on the track. The safety marble failed to put them back into the track. Rapidly from Savage Speeders pushed them back on the track but Wospy was one lap behind everybody, they were unable to come from behind and finished in last.
Wospy recovered well and got 3rd in Hivedrive Grand Prix and also got 6 points in Greenstone Grand Prix. Wospy participated in the final GP on their home course, but finished just outiside of top 10. Wospy placed 17th out of 32 competitiors, Midnight Wisps finished 12th this season.
Wospy managed to turn the tables and managed to got three decent performances in their three individual events by a 5th,6th and a 8th-place finish, getting 29 points. However, they were notrious for losing the lead in Marble Marathon, dropping down to 8th despite leading for a lap, sinking the team from 1st to 4th in the standings.
Wospy participated in Marbula One Season 2, but it turned out to be a horrible start for them as they failed to score a single point in the first half of this season, getting 2 15th-place-finishes and even failed to qualify for Honeydome Grand Prix. Howvever, at Pallete Park, Wospy seized an opportunity. Running in second, with laps ticking down, it looked like a win was out of the picture. However, on the last lap, Speedy makes a colossal mistake. Wospy capitalizes, passing Speedy just before the line. Speedy doesn't make a comeback. Wospy crosses the finish line in first place.
2021
Wospy participated in Marble League Winter Special and participated in Ice Dash, getting 12th. Midnight Wisps eventually finished 12th.
*one bonus point for fastest lap.
Career Points
Marble-League
#
Events
Gold
Silver
Bronze
Points
2017
2
1
0
0
28
2018
1
0
0
0
6
2019
1
0
0
0
3
2020
3
0
0
0
29
2021
TBD
Total
7
1
0
0
66
Marbula 1
| # | GPs | Gold | Silver | Bronze | Points |
| --- | --- | --- | --- | --- | --- |
| S1 | 4 | 0 | 0 | 1 | 15 |
| S2 | 5* | 1* | 0* | 0* | 28* |
| Total | 9 | 1 | 0 | 1 | 43 |
*season still ongoing
Gallery
Trivia
Wospy holds the longest record of not getting points in 4 consecutive Grand Prix in two seasons.
Ironically, with their Palette Park Grand Prix comeback victory, Wospy currently holds the record of both the largest gain and largest drop from qualifying position.
Community content is available under
CC-BY-SA
unless otherwise noted.