Wispy is the captain of the Midnight Wisps. They are most known for winning the Midnight Wisps the 2018 championship, winning the gold medal in the final event, the Sand Mogul Race. Wispy is also known for their collision with Momomomo during the 3rd event of Marble League 2017 (Fidget Spinner Collision), which resulted in Team Momo forfeiting their remaining matches in the event, thus causing Momomomo to withdraw from the remainder of Marble League 2017. The incident was featured #1 in Jelle's "Marblelympics 2017 Top 10 Video Highlights".
Appearances
2017
Wispy debuted in Marble League 2017 Qualifiers and participated in Sand Race where they got 11th. Midnight Wisps eventually qualified for Marble League 2017.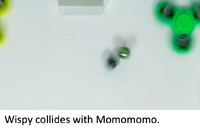 Wispy's first individual event was 5 Meter Sprint and got 8th in this event. Midnight Wisps kept placing middle until Underwater Race, Wospy's gold was able to elevate the team to 4th. In the final event, Wispy have a chance to overtake Mellow Yellow and let the team finish on the podium, but failed just short, and placed 9th in this event. Midnight Wisps finished 4th this season and Wispy scored 17 individual points
2018
Midnight Wisps successfully qualified after being placed in Group B, just one point ahead of Kobalts.Wispy only managed to get 14th in Ski Jump. Midnight Wisps got three bronzes in first ten events and only placed 10th in the standings. However, the gold in Ice Hockey elevated the team to 4th place, and was eligible to win the season. Wispy participated in the final event, Sand Mogul Race and successfully qualified for the final alongside championship contender, Whizzy from the Savage Speeders. Wispy gained a huge lead after the race start and never let it go, they won the final event for the Midnight Wisps, which was enough for them to win the season.
2019
Wispy participated in three individual events but failed to impress in all three of them, getting only 18 points. Midnight Wisps eventually finished 10th this season.
2020
Wispy, alongside Wospy participated in Marbula One Season 1. This seaso turned out to be mediocre for Wispy as they scored only one point in the first three Grands Prix. Things turned out better for Wispy, as they did well in Razzway Grand Prix. After placing in 5th for most of the time in the race, they were able to overtake Anarchy from Balls of Chaos and finished the race in 4th, gaining 12 points. Wispy eventually finished 25th out of 32 competitors, and Midnight Wisps finished 13th out of 16 teams.
Midnight Wisps successfully qualified for this season. Wispy participated in three individual events. They failed to impress in first two, getting 11th in both of them. They, alongside Wespy, participated in Black Hole Funnel and managed to get a silver. Midnight Wisps eventually finished 4th and Wispy scored 30 individual points this season.
They and Wospy are again selected to participate in Marbula One Season 1 but Wispy was able to turn around the tables this time. They got pole in O'raceway Grand Prix but only managed to finish 8th. Wispy did not fall and their results kept getting better, as they scored a 6th and a 5th in next two Grands Prix, getting 29 points in just three Grands Prix, more than the double of what they got in S1. Wispy placed 11th out of 40 competitiors during midway of the season.
2021
Midnight Wisps participated in Marble League Winter Special but only participated in team events.
*Wispy won pole position, thus earning them a bonus point
Career Points
Marble League
#
Events
Gold
Silver
Bronze
Points
2017
2
0
0
0
17
2018
2
1
0
0
27
2019
3
0
0
0
18
2020
3
0
1
0
30
2021
TBD
Total
10
1
1
0
92
Marbula 1
| # | GPs | Gold | Silver | Bronze | Points |
| --- | --- | --- | --- | --- | --- |
| S1 | 4 | 0 | 0 | 0 | 13 |
| S2 | 3* | 0* | 0* | 0* | 29 |
| Total | 7 | 0 | 0 | 0 | 42 |
Gallery
Trivia
Wispy has most individual points among all racers in Marbula One with no podium finishes.
Community content is available under
CC-BY-SA
unless otherwise noted.