The Turtle Sliders are a team that competed in the Marble League Showdown 2019. The team came in second place in the Fan Team Contest during that same year.
Team Members
Edit
| Color | Meaning |
| --- | --- |
| | Team Member |
| | Reserve Member |
| | Injured |
Members Timeline
Edit

| Coach | From | To | Events | G | S | B | Tot. | Honours |
| --- | --- | --- | --- | --- | --- | --- | --- | --- |
| Splint | 4 March 2019[1] | present | 4 | 0 | 0 | 0 | 0 | |
Note: Events include any kind of events (friendlies, other tournaments, ...).
Pre-Marble League
Edit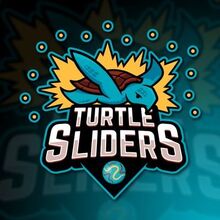 The Turtle Sliders started their marble racing career in the Seven Seas Circuit, racing against other teams from Oceania such as the Oceanics. Shelly, the only original member of the team remaining,was key in helping the team outsmart their opponents and keep up with the Oceanics. Her skills in endurance, longevity and drive to compete kept her going in marble sports even as her old teammates retired. Unfortunately they never managed to beat the Oceanics, but came close in 2015 when they came third overall.
Once the Oceanics left to join the Marble League, many of the original members of the team lost interest and left the team. In mid-2018 Shelly traveled across the region to cities such as Aslipi, Jamarbla and Mellacai to recruit new members. In the end she recruited Crush, Squirt, Dash, and Frank (the reserve member). Splint, the team's original coach, stayed on the team.
Crush was from Aslipi and used to compete in the Turtle Slider's minor league team, the Hatchling Skidders. After her retired from sports, he went into acting and appeared in a crime documentary produced by the Nondescript Entertainment Company about colorful fish being kidnapped. He was convinced to join the Sliders by his younger brother, Squirt, who had always looked up to his leadership while they were in the Skidders. Frank followed them and became the reserve member.
Dash was recruited from Jamarbla. He was a rising star athlete in the city, known for his "extreme speed trials" that he would post on MarBook. He already had a huge fanbase and when he joined the Turtle Sliders, his fans followed. This large number of fans started to petition for the team to be allowed to compete in the Marble League 2019 Qualifiers. Splint, the original team's coach, was living in Mellacai when he was contacted about reforming the Turtle Sliders.[2]
The Turtle Sliders began training in Aslipi for the 2019 Seven Seas Circuit when they received news of the Marble League Showdown which featured a fan vote competition to determine two of the places. Their fans voted for the team in overwhelming numbers, using their previous previous rivalry with Oceanics to attract attention. This was their message to the team posted online:
"But we are coming for you, we will not stand in your shadow, we are here to take it all. Our goal is to make it to MarbleLympics and win it all, we made it this far, we aren't gonna stop now. We WILL make it to the starting line next to you, and when we do, you better be prepared. Your past is catching up to you."
Along with their past rivalry, their logo and reunion story were also praised. In the end they finished second in the vote and were entered into the Marble League Showdown 2019.
As the team trained, they focused on honing their synergy as a team. This paid off when they came 5th in Event 2, Collison. Unfortunately the other three events did not go as well. Squirt came 9th in Event 1, the Sand Rally, after struggling to reach the top 4 after getting caught behind a gaggle of competitors. Dash led for a lot of the Funnel Race but ended up consecutively falling through the final two funnels finishing in 10th and dropping them to 10th overall. The team had trained for the final event, Balancing, but their nerves got the better of them and they could only manage an 11th place finish, finishing in 11th overall, failing to qualify for the Marble League 2020 Qualifiers.[2]
Marble League Showdown 2019
Edit
The Turtle Sliders failed to qualify for the Marble League 2020 Qualifiers.
Marble League Results

Edit

Year
Events
Medals
Result
Points
G
S
B
Tot.
2019
Did not participate
2020
Did not qualify

Marble League Showdown Result

Edit

Year
Events
Medals
Result
Points
G
S
B
Tot.
2019
4
0
0
0
0
11th
13
2020
TBA
The Turtle Sliders have a rivalry with the Oceanics.
Crush and Squirt are presumably named after the sea turtles from Disney-Pixar's Finding Nemo.
References
Edit
↑ FamousOlSpiced (4th March 2019). Meet the Turtle Sliders - prepare to be #shellshocked. Reddit.
↑ 2.0 2.1 Stynth (11th June 2020). RetRollSpective – Turtle Sliders. Marble Sports.
Community content is available under
CC-BY-SA
unless otherwise noted.