Team Plasma is a former Marble League team based on the Sand Marble Rally competitor Ghost Plasma. They competed in the Marble League 2018 Qualifiers but did not advance and qualify for the main event.
On 1 January 2019, it was announced that Team Plasma had retired and were replaced by the Green Ducks. After failing to qualify for Marble League 2018, the team was hopeful for improvement during 2019. However, the team was understaffed in preparing Ghost Plasma for Sand Marble Rally 2018, an endeavor that didn't go as planned, with Ghost Plasma coming in 19th. This resulted in a loss of morale for the Plasma franchise, and ultimately led to the withdrawal of its Marble League team, which had barely trained.[1]
Team Members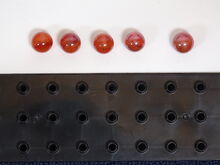 Marble League 2018
Main article: Marble League 2018
Qualifiers
Team Plasma failed to qualify for Marble League 2018. They competed in Group C.
** All of the competitors from the Snow Race in Team Plasma's group stopped mid race. However, Fearo was the closest to the finish line, which earned his team 8 points. The race was not restarted, and Team Plasma were thus allowed to keep their points.
Other 2018 Competitions
Team Plasma took part in three other competitions in 2018: the Marble League 2018 Consolation Race, the 100 Meter Water Race and the Amazing Maze Marble Race. The latter would be the final race Team Plasma had competed in.
Trivia
The real reason why Team Plasma did not compete again after the Amazing Maze Marble Race is due to JMR research finding that the marbles were poor quality landscaping marbles.[2]
References
Community content is available under
CC-BY-SA
unless otherwise noted.