Starry is a current member of Team Galactic. They are one of the most successful athletes in the Marble League in terms of points, gaining 124 individual points in the Marble League.
Widely regarded as one of the best competitors in the Marble League, Starry was, and still is instrumental to Team Galactic's success in Marble Sports, as they earned 4 medals in the Marble League, and 2 more in Marbula One. Starry also earned 2 medals with their teammates.
Starry was well known for their efforts at the Sand Rally in 2017, as they surpassed Clementin from the O'rangers to lift Team Galactic to 5th overall. They also formerly held the record for the most amount of points earned in a single season, before it was broken by Razzy from the Raspberry Racers in 2019.
History
Before Starry met their teammates, they were known for their skills in sand racing. They were employed by the Galactic National Space Center in Galakonur in 2012, while Cosmo and Astron were already working there. The three would be joined by Pulsar the next year. They went on to found Team Galactic together, and started competition in 2014. The team was originally known as Team Galaxy before changing names prior to Marble League 2016.[1]
Career
2016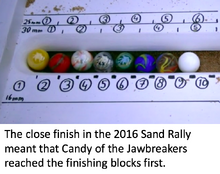 Starry's first individual event was the Sand Rally. In their heat, Starry led the pack for nearly the entirety of the race, finishing first with a time of exactly 56 seconds. Later in the final, Starry started well and soon worked their way up to second place. However, Starry was soon pushed back further. Yelley of Mellow Yellow claimed gold, with Rojo Uno second. Starry finished third by a mere 2 hundredths of a second over Candy of the Jawbreakers. This would be Team Galactic's only medal in Marble League 2016.
Starry also competed in the High Jump, the 7th event. They successfully made it through the first two jumps but failed when attempting 52 cm. Regardless, Starry managed 4th place in that event.
2017
Starry was chosen for the 5th event of the Marble League 2017: the Hurdles. Starry dominated their heat and won by nearly a second with a time of 8.96 seconds. Starry came second in their semi-final, getting them through to the final. In the final, Starry led from the start and won a deserving gold medal with their time of 8.92 seconds.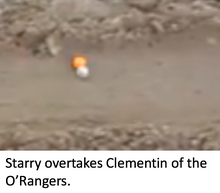 In the Archery event, Starry scored the lowest of the team members with a 7.5. Starry was again selected for the Sand Rally, the final event of Marble League 2017 and performed well to win another gold. Starry won their heat, comfortably qualifying for the final. The final would be perhaps the greatest moment of Starry's career, when after sitting in third for most of the race, charged out of nowhere to beat Clementin of the O'rangers in the last few meters of the race. Starry's time was 1:25:58. This race was featured in Jelle's Top 10 highlights of Marble League 2017. Due to their incredible performance in the Sand Rally, Team Galactic finished 5th in 2017, their highest finish ever.
2018
Starry's first individual event of Marble League 2018 was the much anticipated Snow Rally. Due to Starry's success in sand rally events, Starry was predicted as a potential winner but placed 6th with times of 47.76 and 53.12 seconds.
2019
Starry competed again for Team Galactic in Marble League 2019. Starry competed in the first event, placing 7th in the Underwater Race. During the Block Pushing event, Starry suffered a minor injury, which caused them to miss out on the Hurdles event.
Starry's other individual event was the Dirt Race. In the qualifier, Starry started well, but was caught up on an obstacle early and did not qualify for the final. They finished that event 13th, and due to the hard crash during the race, did not participate the final event of Marble League 2019, which was the Sand Rally, of which Starry won their 3rd individual medal in. The team finished in 8th, with Starry contributing the least amount of individual points for Team Galactic (12 Points).
2020
Starry competed in Marbula One Season 1. At the Savage Speedway, they managed to place first out of the 16 racers. They finished 7th at the Momotorway, 8th at Greenstone, before a disappointing 15th place finish at Midnight Bay. Team Galactic finished 5th in the Team Championship, with Starry finishing the individual championship in 10th.
Starry competed for Team Galactic in Marble League 2020. As Team Galactic were the hosts, they automatically qualified for Marble League 2020. They competed in the Newton's Cradle, the first ever duo event in Marble League history. Both Starry and their teammate Pulsar were able to secure a silver medal, losing out to the O'rangers. Starry would appear two more times in the Hurdles event and the Marble Marathon, of which they finished 5th and 4th respectively. The team finished 7th.
Starry and Pulsar were re-selected to race for the team in Marbula One Season 2. In their first race at Minty Mania, they qualified in 9th but finished 14th. During the Honeydome GP, Starry barely qualified for the Grand Prix in 15th. However, Starry slowly but steadily overtook everyone from 15th to 2nd, and made a crucial block to finish 2nd. With this silver medal sent Team Galactic to 8th place overall. They also participated in the Tumult Turnpike Grand Prix, of which they finished in 5th.
2021
Starry competed in the first event of the Marble League Winter Special, which was the Ice Dash. During Semifinal A, Momo from Team Momo hit the buffer, and rebounded, hitting Starry and causing them to ricochet off the track. Both Starry and Momo were given medical checks. Starry finished in 8th. They recovered, and participated in the Bobsled event and the Ice Hockey, and ended the season with Team Galactic in 10th.
After the mid-season break, Starry participated in the Momotorway Grand Prix, however they wasn't able to keep up their performances, and finished 11th. However, it was enough to lift Team Galactic into 5th place overall. After a disasterous performance by their teammate Pulsar at Palette Park, which caused Team Galactic to drop down to 10th place overall, Starry managed to rescue the team by finishing 4th in the Misty Mountain Grand Prix. At the Savage Speedway Grand Prix, which they had won in the previous season, Starry qualified mid-pack at 11th, and stayed between 4th and 5th for most of the race. However, they made a charge for the podium during the final laps of the Grand Prix, overtaking Prim from Team Primary and Ocean from the Oceanics, and they finished 2nd once again, behind Red Eye from the Crazy Cat's Eyes, who clinched the individual championship and the team championship.This performance lifted Team Galactic to 6th overall with 92 points, with Starry guareenteed to finish in the top 10 of the individual championship. They finished 4th overall in the individual championship, however Team Galactic were only able to edge out a 7th place finish due to a dead last finish by their teammate Pulsar at the Midnight Bay Grand Prix.
Appearances
*Starry set the fastest lap, thus earning them a bonus point.
Career Events
#
Events
1st
2nd
3rd
Total
Podiums
2016
8
0
0
1
1
2017
11
2
1
0
3
2018
8
0
1
0
1
2019
11
0
1
0
1
2020
18
2
2
0
4
2021
12
0
2
0
2
Total
68
4
7
1
12
Note: Events include any kind of individual & team events (friendly events, other tournaments etc.)
Individual Career Points
Summary
| # | Events | 1st | 2nd | 3rd | Points |
| --- | --- | --- | --- | --- | --- |
| 2016 | 2 | 0 | 0 | 1 | 9 |
| 2017 | 2 | 2 | 0 | 0 | 50 |
| 2018 | 1 | 0 | 0 | 0 | 10 |
| 2019 | 2 | 0 | 0 | 0 | 12 |
| 2020 | 10 | 1 | 2 | 0 | 111 |
| 2021 | 5 | 0 | 2 | 0 | 56 |
| Total | 22 | 3 | 4 | 1 | 248 |
Marble League
Marble League Showdown
| # | Events | Gold | Silver | Bronze | Points |
| --- | --- | --- | --- | --- | --- |
| 2021 | 1 | 0 | 1 | 0 | 12 |
| Total | 1 | 0 | 1 | 0 | 12 |
Marbula One
| # | GPs | Gold | Silver | Bronze | Points |
| --- | --- | --- | --- | --- | --- |
| S1 | 4 | 1 | 0 | 0 | 35 |
| S2 | 6 | 0 | 2 | 0 | 69 |
| Total | 10 | 1 | 2 | 0 | 104 |
Trivia
Starry suffered from a minor internal injury during Event 7 of Marble League 2019, Block Pushing, meaning they couldn't participate in Event 9, the Hurdles Race, which they had previously won.[1]
Starry was the first marble to win 2 gold medals and win a total of 3 medals.
Before 2019, Starry had a plethora of individual marble records including: most successful individual marble (69 pts), best medal count by individual marble (2 gold and 1 bronze), most points earned in one year (50 pts, 2017), most medals earned in one year (2 gold, 2017). Amazingly, all of these records were broken in 2019 by a variety of marbles from other teams.

Their fourth place finish in the Marathon in 2020 once again made them the most successful individual marble (124 pts).

Starry was the first marble to accumulate more than 100 individual Marble League points.
Before the final event of 2019, Starry was the only member of Team Galactic to have any individual medals to their credit.
References