Roldo is loads of time hiding during games. Just like his human counterpart Wally or Waldo.
Roldo is a weird marble, he's not very round, but more like an egg. His color is dark blue with red, yellow and white stripes.
In the 2019 MarbleLympics, he's hidden in the odd events (E1, E3, E5, etc). Depending of the event, he can be hidden along the track, near the starting gate, but he can also be in the fan stands. Sometimes Roldo appear briefly before being covered by on-screen scoring graphics.
Appearances
Edit
2018 MarbleLympics appearances will be added later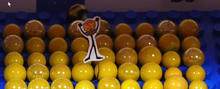 Community content is available under
CC-BY-SA
unless otherwise noted.