Rojo Uno is one of the marbles of the Rojo Rollers MarbleLympics team. He helped his team a lot and helped give them a good start in the 2016 Marblelympics with 25 points and a silver medal.
During the 2016 Marblelympics, he won 1 gold medal in a team event and 1 individual silver medal in the Sand Rally, this was also his only individual event of 2016. The team finished sixth.
Rojo Uno participated with the Rojo Rollers for the 2017 Marblelympics' qualifier. But they failed to qualify scoring only 4 points and finishing 16th out of 16.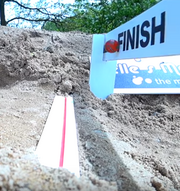 In 2018, Rojo Uno again participated with the Rojo Rollers for that year's Marblelympics. This time he did participate in a individual event: the Snow Rally. He finished 7th out of 8 in the race. Rojo Rollers would again not qualify for the MarbleLympics, this time falling 1 point short for qualification. Later in 2018 Rojo Uno participated in a consolation sand race for the non-qualified teams, he won this race and crossed the line in memorable fashion, jumping and hitting the finish banner in celebration.
In 2019, Rojo Uno again participated with the Rojo Rollers for the 2019 Marblelympics. He participated in the final qualifying event: the Underwater Race, where he made a formidable comeback on the final straight to take the win of heat 5. This was unfortunately only the 10th quickest time and the Rojo Rollers missed out on the MarbleLympics for the third year in a row.
Community content is available under
CC-BY-SA
unless otherwise noted.