Quicksilvers are a former Marble League team introduced in Marble League 2017. The team is named after Sand Marble Rally competitor Quicksilver. They were represented by Argent, Mercurial, Quix, and Silvery.
The Quicksilvers were one of the competing teams in the 2015 Surculo tournament, where they finished third overall. They, however, declined the invitation to Marble League 2016, opting instead to compete in the next year's Surculo. That invitation was eventually given to the Chocolatiers, who finished fifth.[1]
The Quicksilvers were also the runners-up of the 2016 Surculo to the Jungle Jumpers. Both teams were invited to participate in Marble League 2017, and they both managed to qualify for the main tournament.[2]
However, following a last-place finish in Marble League 2017, and a failure to qualify the next year, the team retired.
Team Members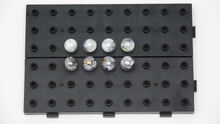 Argent, Mercurial, Quix and Silvery were the original members of Quicksilvers and remained the members of the team until retirement. They were joined in late 2017 by a reserve member, whose name remains unknown as of the end of 2019.
| Color | Meaning |
| --- | --- |
| | Team Member |
| | Reserve Member |
| | Injured |
Marble League 2017
The Quicksilvers had a mediocre start to the Marble League 2017 Qualifiers round, finishing 10th in the Relay Race event, but jumped to 7th after Quix finished 6th in the Sand Race event. Later on, they performed poorly in the next event, Block Pushing, and were in danger of missing out on Marble League 2017. Thankfully, Argent performed very well in the final event, Funnel Race, and finished 2nd. The Quicksilvers qualified for Marble League 2017 by finishing 5th.
Qualifiers
Main Tournament
The Quicksilvers, however, performed poorly in Marble League 2017 and didn't go anywhere above 14th throughout the tournament. They concluded the only Marble League edition they participated in at the bottom of the ladder with 58 points and no medals.
The closest thing the team did to winning a medal was in the Archery event, where they had surprisingly strong performance and finished fourth, but dropped to dead last in the standings thanks to the Jungle Jumpers' gold medal from that event.
Marble League 2018
Qualifiers
The Quicksilvers failed to qualify for Marble League 2018. They performed poorly as they did in the previous year and couldn't get out of last place in their Group throughout the Qualifiers. They competed in Group A.
Other 2018 Competitions
The Quicksilvers took part in two other competitions in 2018: the Marble League 2018 Consolation Race and the 100 Meter Water Race.
Retirement
During the Amazing Maze Marble Race, it was announced that the Quicksilvers were retiring from Marble League. This was because they had lost interest in the competition due to their disappointing performance in Marble League 2017 and their failure to qualify for Marble League 2018.[3]
Marble League Results
Trivia
The Quicksilvers are the only retired team to have qualified for at least one Marble League edition.
References
Community content is available under
CC-BY-SA
unless otherwise noted.