Momomomo is one of the members and was the former team captain of Team Momo. Momomomo is well known for their injury at Marble League 2017, during the Fidget Spinner Collision event. The injury was caused when Momomomo was flung into Wispy from the Midnight Wisps by a fidget spinner and a chunk of their body was knocked clean off. This horrific injury was featured #1 in Jelle Bakker's YouTube video, "Marble League 2017 Top 10 Video Highlights". In 2021, it was announced that Momo would replace Momomomo as team captain during the Marble League 2021 Qualifiers.
History
Momomomo was ordered to sit out for the remainder of Marble League 2017 after sustaining a chip to the side during the Fidget Spinner Collision event. They watched the rest of the Marble League 2017 from the stands as Mimo substituted in their place.
Despite rumors saying that they may not be able to compete in any Marble League ever again, Momomomo fully recovered from their injury and rejoined Team Momo, competing in Marble League 2018. Momomomo was part of the the Bobsled team, but received concussion in it, and was thus required to sit out along with Momomo for the remainder of Marble League 2018. The remainder of the team merged with Team Primary to form Team Momary.
Momomomo recovered and competed in the qualifications for Marble League 2019.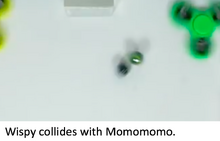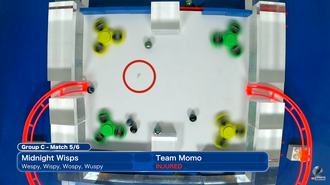 Appearances