Marble Rally Season 5 is the fifth edition of the Marble Rally. It began on the 15th September 2020. There are 12 races, the first time since 2017.
Changes in Season 5
Every race is split into sectors, with the exception of Race 7 and Race 8.
The numbering for the starting grid has been altered.
First non-sand race in the series.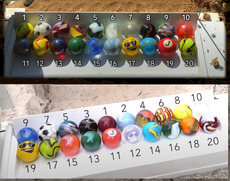 Competitors
Invited marbles
Non-invited marbles
Retired Marbles
No marbles have retired between 2019 and 2020.
Newcomers
There are no newcomers this season.
Scrapped Qualification
At the end of Marble Rally 2019, the qualification system for Season 5 was released.
Prequalified for Marble Rally Season 5:
Top 12 of 2019 and Top 4 of 2019 B-League
2020 Marble Rally Showdown:
17th-20th of 2019 and 9th-12th of 2019 B-League
A race-off for the final available spots in the Marble Rally was planned. Four out of the participating eight would have qualified from here.
Participating in the Race-off:
13th-16th of 2019 and 5th-8th of 2019 B-League
However, in September 2020, it was announced that the Race-off had been cancelled, and instead 20 individual marbles were invited to take part based on their previous performances and physical condition.[1] The Showdown was also cancelled.[2]
Standings
t: tied
DNF: Did Not Finish
Point System
1st: 20pts
2nd: 17pts
3rd: 14pts
4th: 12pts
5th: 11pts
6th: 10pts
7th: 9pts
8th: 8pts
9th: 7pts
10th: 6pts
11th: 5pts
12th: 4pts
13th: 3pts
14th: 2pts
15th: 1pt
Winners
Note:

P1–P10 is on the front row
P11–P20 is on the back row
See Also
References
Community content is available under
CC-BY-SA
unless otherwise noted.