The Marble League Showdown 2021 was the secondary competition to Marble League 2021 and the third Marble League Showdown.
Teams
The twelve teams that failed to qualify for Marble League 2021 participated in the Showdown.
Competing Teams
Main Tournament
Event 1 results:
Event 2 results:
Event 3 results:
Event 4 results:
Event 5 results:
Event 6 results:
Event 7 results:
Event 8 results:
Standings
Standings After Each Event
Overall Standings
Final Standings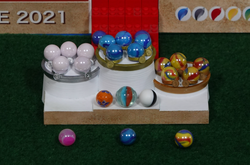 Trivia
On 22 July 2021, it was revealed that the Showdown had been expanded to 8 events for the first time.
On 22 August 2021, it was also revealed that there will be no relegation, and that the relegated teams for next year's Showdown will be four new or returning teams that will compete in Marble League Showdown 2022.[1]
This marks the first Showdown where all participating teams won at least one medal.

Coincidentally, the main Marble League also had all its participating teams win at least one medal.
References