The qualifiers for Marble League 2021 will take place on 18 June 2021. The qualifying system changed from the previous year, and instead of 20 teams, 24 teams will enter the qualifiers in two groups of twelve to claim participation spots in the main tournament, but only 12 of them will make it through alongside the four auto-qualified teams from Marble League 2020.[1]
The Savage Speeders, O'rangers, Minty Maniacs, and Crazy Cat's Eyes are already confirmed to auto-qualify for the main league, so they will not be competing.
The Turtle Sliders, Snowballs, and Limers were originally ineligible to participate the ML2021 Qualifiers or the ML2021 main event because they were the bottom four of Marble League Showdown 2020. However, due to changes in the qualifying format, and the retirements of the Jawbreakers and Hornets, these three teams will compete in the ML2021 Qualifiers.
On April 13th, 2021, it was announced that the Gliding Glaciers would return to the Marble League and take the place of the Jawbreakers. Additionally, it was announced that a new team, the Solar Flares, would take the place of the Hornets in the Qualifiers after the Bumblebees' takeover of the Hornets.
Competing teams
Draw
All 24 teams hoping to qualify for Marble League 2021 were randomly placed into two groups, Group A and Group B, with one team per group being revealed between June 6th and June 17th 2021 on the JMR Subreddit. On June 8th however, a promotion video on the JMR Twitter revealed the 24 teams' placement in groups, resulting in a premature release of the qualifying groups in Marble League 2021.
Groups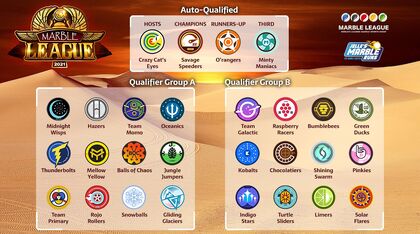 Events
No.
Event
Air date
Gold
Silver
Bronze
TBD
Wave
18 June 2021
TBD
Funnel Endurance
Relay Race
Sand Rally
References
Community content is available under
CC-BY-SA
unless otherwise noted.