This page is about the former official committee, for the current committee see Jelle's Marble Association The Jelle's Marble Runs Committee (JMRC) was the official committee of Jelle's Marble Runs from February 2019 to April 2021. They organized and ran every event and were responsible for anything related to Marble Sports on Jelle's Marble Runs. The JMRC's overall task was to make the Marble League, the Marble Rally and other tournaments even better than they already were by checking scores, developing scoring systems, inventing new events, advising Jelle, organizing competitions like the Fan Team Contest, running social media, establishing official canon and a lot more. This organization performed the functions of the International Marble Sport Committee from Marble League 2018.
On 13 April 2021, the Committee announced their unanimous decision to disband due to continued unresolved concerns.[1] The Jelle's Marble Association, the new official committee, was formed a month later.
Members
There were a total of twenty members of the committee of which sixteen were part of it at the time of the committee disbanding. The JMRC members included some of the most important users of the community.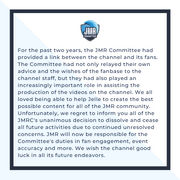 | Member[2][3][4] | Tasks |
| --- | --- |
| Mellacus | President and PR-Manager |
| Little Mighty | The Rollout and Marble Media |
| Stynth | Lore writer and Marble Media |
| Darkarchon | Event Designer |
| Gee | Consultant |
| Betawolfs | Graphic Design |
| Pax | Wiki and Moderation |
| Alayjo | Graphic Design and Marble Media |
| foucaulf | Channel Analytics and Consultant |
| Spex | Designer and Analyst |
| Valencia Parker | Writer and Editor |
| Miss Minty | Moderator |
| Flare | Discord Moderator and Facebook Fan Group Moderator |
| Ghost | Consultant |
| Minos | Composer |
| Mesp | Advisor and Event Checker |
| Novawolf | Design and Analysis |
| Smacg13 | Wiki and Captions |
| Shino | Consultant |
References