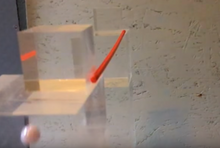 High Jump is a common sport in the marble world and was first competed in on the 7th event in the first annual Marble League.
While competing in High Jump, your goal is to make it over a bar that increases in height every time you jump above it (generally with 0.5 centimeters). After failing the same jump three times, you lose. The marbles compete with the tallest height they managed to jump over. The number of failed attempts can be used as a tiebreaker.
Snowstorm of the Snowballs was proud to be the first ever marble to try the High Jump. The event started with a 50 cm bar and Snowstorm didn't make it. In fact, many of the marbles didn't even get close to 50 cm. Eventually, Imar from Team Primary became the first to make it. At the end Momomomo of Team Momo got Bronze by hitting the bar at 53 cm, then Imar got silver for Team Primary by hitting it at 55 cm and last but not least Rojo Dos of the Rojo Rollers made it over the 55 cm mark to win the Gold, but he wasn't satisfied with that and tried to achieve a new record attempt at 58 cm, although he didn't make it.
In an interview after the event, Momomomo stated that he easily could've made it over the 53 cm mark, but he mistimed his launch and thus failed. He was still happy with achieving the bronze medal, but to him, it could've been even more.
High Jump also appeared in the Marble League 2017 as the eighth event, although the conditions of the competition had changed from the previous year. Yellah from Mellow Yellow won after making it to 38 cm, beating the world record, while Mandarin from the O'rangers and Mimo from Team Momo got into 2nd and 3rd place respectively, both reaching 37.5 cm.
Community content is available under
CC-BY-SA
unless otherwise noted.