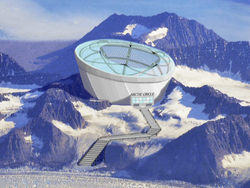 Hailfern is a small city on the northeast coast of North America and the hometown of the Snowballs. It is known for its ski slopes, including Snowflake Slope, named after Snowflake of the Snowballs. The Snowballs became one of the most popular university teams on the continent while at the University of Snoronto which brought international attention to the city for the first time in centuries.
Before the fame of the Snowballs, Hailfern was a small village. Over time it started to grow into a small city, with a rapid expansion in 2017. One of the new tenants of the city was the Arctic Corporation, a construction company that built the Arctic Circle stadium as well as the training facilities for the Snowballs. The stadium was located on the opposite side of the mountain from Snowflake Slope overlooking the city. During the fall of 2017, Jelle and Dion Bakker as well as Greg Woods visited the stadium during their world tour. They liked the stadium so much they offered the Snowballs the chance to host Marble League 2018.
The Marble League 2018 Qualifiers, Friendly Round and the main competition all happened at the stadium. However, before the final event, the Sand Mogul Race, a blizzard in Hailfern caused an avalanche that destroyed the stadium and severely damaged the Snowballs' training facilities. The IMC decided to move the final event to the Bakker Bowl. The Snowballs started to rebuild the stadium in early 2019.[1]
Trivia
Hailfern is a reference to Halifax, the capital of the Canadian province of Nova Scotia.
References