The Golden Orbs, formerly known as the Golden Wisps, are a gold team of marbles introduced in the Hubelino Tournament 2016. They debuted under their new name in the MarbleLympics 2018 Qualifiers.
Team Members
Edit
| Color | Meaning |
| --- | --- |
| | Team Member |
| | Reserve Member |
| | Injured |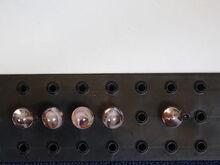 QualifiersEdit
The Golden Orbs competed in the MarbleLympics 2018 Qualifiers in Group B. The team scored 4 points in Curling. In the Snow Sprint, Goldby scored 5 points and in the Ice Sprint Goldby bagged 7 points for the team. The Golden Orbs placed last in their group in the halfpipe, the final qualification event. As a result, the team did not qualify for Marble League 2018.
During the Amazing Maze Marble Race, it was revealed that the Golden Orbs, along with the Minty Maniacs and Black Jacks, were not going to take part in the Marble League 2019 Qualifiers in favor of Hubelino Tournament 2018.[1]
The Golden Wisps were renamed to the Golden Orbs to prevent confusion with the Midnight Wisps. The Golden Orbs returned to the Hubelino Tournament and competed in this tournament.
ReferencesEdit
↑ Skystrykr (2nd January 2019). The teams not participating in 2019 MarbleLympics Qualifiers.. Reddit.
Community content is available under
CC-BY-SA
unless otherwise noted.