The Golden Orbs, formerly known as the Golden Wisps, are a Hubelino team that debuted under its new name in the qualifiers for the 2018 Winter MarbleLympics.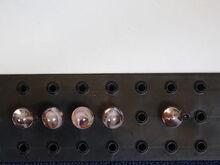 Team Members
Edit
2018 Team
Orby
Glorby
Gorby
Goldby
Glordby
| Color | Meaning |
| --- | --- |
| | Team Member |
| | Reserve Member |
| | Injured |
Marblelympics
Edit
The Golden Orbs competed in the 2018 MarbleLympic Qualifiers and made it into the main competition. The team scored 4 points in Curling. In the Snow Sprint, Goldby scored 5 points and in the Ice Sprint Goldby bagged 7 points for the team. The Golden Orbs placed last in their group in the halfpipe, the final qualification event. As a result, the team did not qualify for the 2018 MarbleLympics.
Hubelino Tournament Season 2
Edit
Event 1 - Swing WaveEdit
Event 2 - CatwalkEdit
Event 3 - Funnel RaceEdit
Event 4 - HalfpipesEdit
Event 5 - Block BumpingEdit
Event 6 - Relay RaceEdit
Event 7 - MazeEdit
Event 8 - Big TowerEdit
The Golden Wisps were renamed to the Golden Orbs to prevent confusion with the Midnight Wisps. Golden Orbs returned to the Hubelino Tournament. and compete in this tournament.
Community content is available under
CC-BY-SA
unless otherwise noted.