The Gliding Glaciers are a former Marble League team. They were meant to debut during the 2017 Marblelympics, they however didn't participate in the 2017 Qualifiers.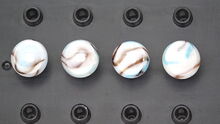 The Gliding Glaciers officially debuted in the 2018 Qualifiers. They failed to qualify for the 2018 Marblelympics and the following year, the team retired.
Team Members Edit
Glide, Glidy, Glace, Glacie and Glacier were the members of Gliding Glaciers.
2018 Team
Glide
Glidy
Glace
Glacie
Glacier
The Gliding Glaciers were chosen for the 2017 Marblelympics but were disqualified before the qualifications began, as the team can be easily confused with the Jawbreakers. They were replaced by the Quicksilvers for the 2017 competition. The Purple Stars were also disqualified for unrelated reasons.
The Gliding Glaciers were cleared to compete in Marble League 2018 and competed in the qualifiers. They were deliberately placed in a different group to the Jawbreakers. The Gliding Glaciers performed poorly and failed to place in the top 3 in any of the four qualifying events. They competed in Group B.
The team achieved an amazing third place in the 100 Meter Water Race, following the Jungle Jumpers and the Limers, overpowering much stronger opponents. It was the highest point of their professional career so far.
Retirement
Edit
During the Amazing Maze Marble Race it was announced that the team were retiring and would not try to take part in the MarbleLympics 2019 Qualifiers. The team disbanded due to their failure to qualify for Marble League 2018, a winter themed competition.[1]
ReferencesEdit
↑ Skystrykr (2nd January 2019). The teams not participating in 2019 MarbleLympics Qualifiers.. Reddit.
Community content is available under
CC-BY-SA
unless otherwise noted.