Ducktape is a marble who participates in Sand Marble Rallies. He made his debut in 2018. In 2019, he was relegated and competed in the B League.
Sand Marble Rally career
Edit
Ducktape was one of four new entrants into the 2018 Sand Marble Rally. He started off poorly, finishing 17th in the first race. But he did manage to improve in the next four races by consistently finishing within the Top 10, with his first ever podium finish in Race 5, where he finished third, as highlight. In the final three races of the season, Ducktape faltered and finished within the bottom half, resulting in 16th overall with 43 points.
In 2019, Ducktape changed his uniform to purple. Due to poor performance in 2018, Ducktape had to qualify through the Wildcard. Despite his remarkable performance, Ducktape finished third and thus failed to qualify for the main tournament.
Ducktape had a consistent performance in the Showdown, despite never actually getting onto the podium. With two fourth and fifth finishes each, he finished the Showdown in 4th and prequalified for the main 2020 Marble Rally tournament.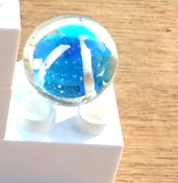 Sand Marble Rally results
Edit
Community content is available under
CC-BY-SA
unless otherwise noted.