Ducktape is a marble who participates in Sand Marble Rallies. He made his debut in 2018. In 2019, Ducktape he was relegated and competed in the B League.
Sand Marble Rally career
Edit
Ducktape was one of four new entrants into the 2018 Sand Marble Rally. From race 2 to race 5 Ducktape had many top 10 finishes with a third place in Race 5 as highlight. In the final three races of the season Ducktape placed 16th, 15th and 14th, resulting in 16th overall with 43 points.
In 2019, Ducktape's colour was changed to purple. Due to poor performance in 2018, Ducktape had to qualify through the Wildcard and was relegated to the B league after placing third. He placed 4th with two 4th and 5th place finishes.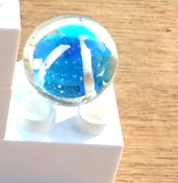 Sand Marble Rally results
Edit
Community content is available under
CC-BY-SA
unless otherwise noted.