Dash is a member of the Turtle Sliders. They started competing in Marble League Showdown 2019 and have so far been unable to progress any further.
History
Pre-Marble League
Dash is from the city of Jamarbla. They were a rising star athlete in the city, known for their "extreme speed trials" that they would post on MarBook. They already had a huge fanbase and when they were recruited to the Turtle Sliders in mid-2018 by Shelly, the fans followed. This large number of fans started to petition for the team to be allowed to compete in the Marble League 2019 Qualifiers.[1]
2019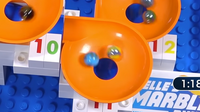 The Turtle Sliders began training in Aslipi for the 2019 Seven Seas Circuit when they received news of the Marble League Showdown which featured a fan vote competition to determine two of the places. Their fans voted for the team in overwhelming numbers, using their previous previous rivalry with Oceanics to attract attention. Along with their past rivalry, their logo and reunion story were also praised. In the end they finished second in the vote behind the Hornets, and were entered into the Marble League Showdown 2019.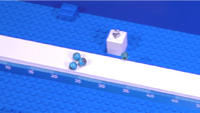 As the team trained, they focused on honing their synergy as a team. This paid off when they came 5th in Event 2, Collison. Unfortunately the other three events did not go as well. Squirt came 9th in Event 1, the Sand Rally, after struggling to reach the top 4 after getting caught behind a gaggle of competitors. Dash led for a lot of the Funnel Race but ended up consecutively falling through the final two funnels finishing in 10th and dropping them to 10th overall. The team had trained for the final event, Balancing, but their nerves got the better of them and they could only manage an 11th place finish, finishing in 11th overall, failing to qualify for the Marble League 2020 Qualifiers.[1]
2020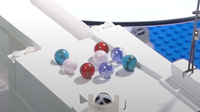 The Sliders started to train at their training facility, Slider Academy. The academy was certified by the JMRC but was severely underequipped. Shelly started an athletic training program, although not all of the rest of the team had the time to take part.[2]
The Sliders started off Marble League Showdown 2020 by finishing just outside the top half in 7th in the Relay Run. This was followed by a less good 9th place finish in the Halfpipe. Dash and Shelly got the Sliders' only top half finish by coming sixth in the Black Hole Funnel. Despite this they dropped to 9th overall. Unfortunately Squirt could only manage an eighth place finish in the final event, the Sand Mogul Race, making the Sliders finish in 9th overall. Once again the Turtle Sliders failed to qualify for the Marble League 2021 Qualifiers.
Appearances
Career Events
#
Events
1st
2nd
3rd
Total
Podiums
2019
3
0
0
0
0
2020
2
0
0
0
0
2021
7
0
1
1
2
Total
12
0
1
1
2
Note: Events include any kind of individual & team events (friendly events, other tournaments etc.)
Individual Career Points
Summary
| # | Events | 1st | 2nd | 3rd | Points |
| --- | --- | --- | --- | --- | --- |
| 2019 | 1 | 0 | 0 | 0 | 2 |
| 2020 | 1 | 0 | 0 | 0 | 6 |
| 2021 | 2 | 0 | 1 | 0 | 15 |
| Total | 4 | 0 | 1 | 0 | 23 |
Marble League
Marble League Showdown
| # | Events | Gold | Silver | Bronze | Points |
| --- | --- | --- | --- | --- | --- |
| 2019 | 1 | 0 | 0 | 0 | 2 |
| 2020 | 1 | 0 | 0 | 0 | 6 |
| 2021 | 1 | 0 | 1 | 0 | 12 |
| Total | 3 | 0 | 1 | 0 | 20 |
References