Bombay is the coach of the Green Ducks. They led the Green Ducks to a second place finish in their first Marble League, Marble League 2019, the best finish for a rookie team in the Marble League as well as successful Marbula One appearances.
History
Pre-Marble League
Bombay is from Bermenghank, a city it the Brace Isles. They are the parent of Mallard and Billy. In 2014 their partner went into the infirmarblery where unfortunately they passed on. Bombay wasn't working at the time and used most of the family's money to pay for the funeral. Bombay continued to struggle finding work, and Mallard found themselves working on a farm, looking after ducks with Billy.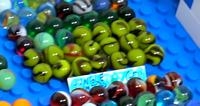 In 2017, Mallard secretly entered a bid to get tickets to Marble League 2017, and won. They surprised their friends, Quacky, Ducky and Goose, with a trip to see the games in Knikkegen and watched from the Jungle Jumpers fan area, the team they supported as their colors reminded them of the grass on the farm. After they returned home, the group decided to start training to become marble sports athletes. They spoke to Bombay, who quit their job in tourism to become their coach. They decided to name their team the Green Ducks.
The Green Ducks started competing in minor leagues across the British Isles, a place not well known for marble sports at the time. They emerged as the most dominant team in the region. This way, the team earned themselves a great deal of sponsorships, allowing the team to become financially stable. They moved to Draklin in 2018 and started to use Joshdon Stadium as their home stadium.
In late 2018, rumors started to spread that Team Plasma were retiring from the Marble League due to lack of training, leaving an opening in the qualifiers for Marble League 2019. The Green Ducks promptly applied for participation in the Marble League, hoping to take their place. In early 2019, the team were accepted to take part in the Marble League 2019 Qualifiers.[1]
Coaching Statistics
Summary
Year
Competition
Events
1st
2nd
3rd
Tot.
Result
Points
2019
ML19
16
2
3
0
5
2nd
204
2020
M1S1
8
1
1
0
2
6th
64
ML20F
4
0
1
2
3
4th
9
ML20
16
0
0
0
0
12th
101
M1S2
6
1
1
1
3
3rd
115
2021
6
MLWS
5
0
0
0
0
8th
45
ML21PR
1
0
0
0
0
19th
-
ML21Q
4
0
1
0
1
5th
24
ML21
16
1
3
0
4
11th
141
ESCAPE2021
1
0
0
0
0
4th
-
Total
10
83
5
10
3
18
Note: Medals aren't awarded for Qualifiers or Friendly Rounds
Marble League
Qualifiers/Friendlies
Year
Events
1st
2nd
3rd
Tot.
Total
Teams
Result
Points
AP
PD
2020F
4
0
1
2
3
20
4th
9
3.00
13
2021Q
0
1
0
1
12
5th
24
6.50
18
Total
8
0
2
2
4
33
Main Tournament
Year
Events
G
S
B
Tot.
Total
Teams
Result
Points
AP
PD
2019
16
2
3
0
5
16
2nd
204
5.63
12
2020
0
0
0
0
12th
101
9.69
101
2021
1
3
0
4
11th
141
8.94
21
Total
48
3
6
0
9
446
Marbula One
Season
Grands Prix
G
S
B
Tot.
Total
Teams
Result
Points
AP
PD
S1
8
1
1
0
2
16
6th
64
7.13
37
S2
12
1
1
1
3
20
3rd
115
7.50
68
Total
20
2
2
1
5
179
Other Tournaments
Tournament
Events
G
S
B
Tot.
Total
Teams
Result
Points
AP
PD
MLWS
5
0
0
0
0
16
8th
45
7.00
24
2021PR
1
0
0
0
0
28
19th
N/A
ESCAPE2021
1
0
0
0
0
4
4th
N/A
Honors
References