Block Pushing is a MarbleLympic event where teams of 4 marbles roll towards a block. As the name suggests, each team aims to push their block as far as possible. The current record is held by the O'Rangers with a push of 82.6cm. The event was introduced in 2017 where it made two appearances, as one featured in the qualifiers. If a block or a marble falls of the track the team gets an invalid. the best 2 marbles with advance to the next stage
Qualifiers
Edit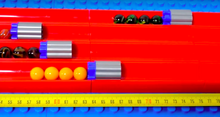 Block Pushing was one of the four qualifying events at the 2017 MarbleLympics. A shortened version of the events was used which included no finals but simply 4 heats. The winner of this qualifier was the Jungle Jumpers with a push of 73.3cm. The Kobalts placed second with Team Primary in third.
Main Competition
Edit
Block Pushing featured as the 7th event of the 2017 MarbleLympics. The eventual champions, the O'rangers won gold with a record push of 82.6cm. Team Momo won silver and the Pinkies picked up third.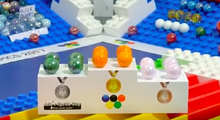 The complete results can be found here.
Community content is available under
CC-BY-SA
unless otherwise noted.