Astron is a member of Team Galactic and competed in Marble League 2016. Astron's first individual event was the Long Jump in 2016.
Career
Astron competed in two individual events during Marble League 2016. In the Long Jump, Astron placed 6th out of the 16 competitors with a jump of 92.0 cm. Later, in the 10 Meter Sprint, Astron placed third in their heat and failed to qualify. Their time was 5.298 seconds.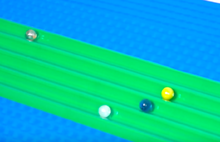 In Marble League 2017, Astron competed in just one individual event: the 5-Meter Sprint. Astron slipped far behind the other marbles in their heat but managed a time of 6.71 seconds, 10th overall.
Astron represented Team Galactic in the second event of Marble League 2018, the Ski Jump. A jump of 113.6 cm earned them 11th place.
Astron competed again in the 5 Meter Sprint in Marble League 2019, and just qualified for the semi-finals, but they failed to make the final. They also competed in the Elimination Race, and despite good finishes in the first two preliminary rounds, they would come up just short in the third round and miss the final, finishing 10th.
Appearances
Trivia
References