The Arctic Circle is a Marble League stadium located in Hailfern in the North East of North America, on the opposite side of the mountain from Snowflake Slope, the ski-slope where Snowflake of the Snowballs grew up. In 2017, the Arctic Corporation started building the arena and training facility for the Snowballs. During the fall of 2017, Jelle and Dion Bakker along with Greg Woods visited the stadium as part of their world tour. They liked the stadium so much they offered the Snowballs the chance to host Marble League 2018.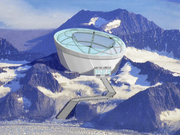 After Event 11 of Marble League 2018, the Ice Hockey, a blizzard hit Hailfern and an avalanche slid into the stadium, destroying it and severely damaging the training facilities. After surveying the damage,Jelle and Dion Bakker and the IMC decided to move the final event, the Sand Mogul Race, to the Bakker Bowl. The stadium started to be rebuilt in 2019.[2]
References
Community content is available under
CC-BY-SA
unless otherwise noted.